E-INVOICING – APPLICABILITY & REGISTRATION
E-Invoicing is a system for authentication of B2B invoices electronically by the GSTN. Under the electronic invoicing framework, a unique Invoice Reference Number (IRN) is issued against each invoice digitally using Invoice Registration Portal (IRP) managed the GSTN. Maximum 100 items can be incorporated in a single invoice.
E-Invoicing eliminates the need to enter data manually in different portals, i.e., we are not required to enter the same data again and again into GST Portal, E-Way Bill Portal and in the E-Invoice Portal.
E-Invoicing also helps to track the invoices in real-time. It helps in resolving a large gap in data reconciliation under GST to reduce the mismatch of errors. It provides a framework to quickly access the complete invoice related details.
APPLICABILITY
An assessee shall comply with the provisions of e-invoicing if their aggregate turnover exceeds the specified limit in any financial year after the implementation of GST, i.e., 2017-18 onwards. The calculation of aggregate turnover shall include the turnover of all the GSTINs issued under a single PAN across India.
| | | |
| --- | --- | --- |
| PHASE | APPLICABLE IF | APPLICABILITY DATE |
| I | TURNOVER > 500 CRORES | 01.10.2020 |
| II | TURNOVER > 100 CRORES | 01.01.2021 |
| III | TURNOVER > 50 CRORES | 01.04.2021 |
| IV | TURNOVER > 20 CRORES | 01.04.2022 |
Example: Suppose PQR Ltd had aggregate turnover as follows:
| | |
| --- | --- |
| YEAR | TURNOVER |
| FY 2017-18 | Rs.12 crore |
| FY 2018-19 | Rs.16 crore |
| FY 2019-20 | Rs.23 crore |
| FY 2020-21 | Rs.18 crore |
| FY 2021-22 | Rs.14 crore |
PQR Ltd shall mandatorily generate e-invoices from 01.04.2022 irrespective of the current year's aggregate turnover as it has crossed the threshold limit of Rs.20 crore turnover limit in FY 2019-20.
Following class of taxpayers are currently covered under e-invoicing:
Supplies to the registered persons (B2B)
Supplies to SEZs
Exports
Deemed exports
WHO DOESN'T REQUIRE E-INVOICING?
Following category of a person exempted under e-invoice
A banking company
A non-banking financial company
A financial institution
An insurer
A person engaged in supplying passenger transportation service
A goods transport agency (GTA) supplying services
A person engaged in supplying services in terms of admission of the exhibition of cinematograph films in the multiplex screen
Persons registered in terms of Rule 14 of CGST Rules (OIDAR)
Special Economic Zone units (although e-invoicing is required for SEZ Developers)
HOW TO REGISTER FOR E-INVOICING
Click on Registration < e-Invoice Establishment.
Fill your GSTIN, enter the captcha and click on GO.
After clicking on GO, the details would be shown as below: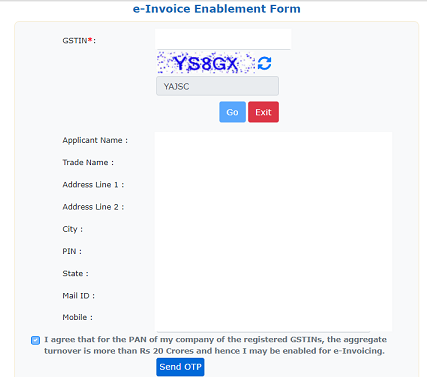 Then, click on SEND OTP. OTP will be sent on your registered mobile number. Verify the OTP.
Now, select the respective financial year and specify the turnover of that period.
Click on SUBMIT.
After submitting the required details, login credentials would be generated. He/she would be registered for preparing e-invoices.