AGENCY FOR SPECIALIZED MONITORING(ASM)
WHY ASM?
As indicated by the RBI, frauds had arisen as the most genuine concern in the administration of functional risk, with 90% of them situated in the credit portfolio of banks. Due to ever increasing frauds and the amount of non-Performing assets increasing drastically in every bank in India, RBI took the stand and introduced new reform, i.e., Agencies for Specialized Monitoring (ASM).
Indian Bank's Association (IBA) has impaneled 83 agencies to monitor stressed loan accounts and regulate the cash flows of banks.
WHAT IS ASM?
ASM is an external agency (Chartered Accountants) which is introduced to monitor large credit exposures and huge advances of Banks/Consortium of banks. Consortium refers to the coming together of banks to sanction the limits for a certain purpose. There is always a Lead bank in a Consortium who has the majority power over others. Lead bank in a consortium of bank will select any particular agency and give the assignment to it for monitoring of account.
An Agency for Specialized Monitoring (ASM) is a mechanism of the bank, which allows it to take several steps to prevent or minimize the number of money laundering cases and misappropriation of funds. ASMs are committed to providing due diligence support in India. In the banking world, the explanation for due diligence support & services involves an in-depth investigation and analysis of the business or person's credits, assets, and liabilities. A bank before investing or finalizing a transaction in a business initiates acquisition or gives out a loan to a customer to ensure that the deal would be lucrative and safe for the bank.
PURPOSE OF ASM:
With the effect of reporting under ASM, we come to know the problem in advance like inventory buildup, delay in receivables and diversion of funds. All the transactions will be under a strict vigilance. As employees of the banking industry don't have such expertise in all the sectors and related business transaction, the services of ASM to closely track the activity of complex nature of transaction of borrower is to be tracked on each stage.
APPLICABILITY:
ASM will be applicable to all the debtors where exposure is above Rs.250 crores. The scope of work includes:
Regular auditing and scrutinizing deviations or fluctuations.
Monitoring of cash flow and transactions.
Analyzing of the organization's work input and output.
Checking for misappropriation of funds or diversion of funds.
Ensuring compliance of terms and condition of sanction.
Extensive analysis of a company's transactions, operations, and financial health.
Analyzing of Fund Flow Statement.
ASM is an entity having Chartered Accountants with good domain knowledge, experience and skill in different sectors, industries etc. In case of large exposure or exposure of specialized nature, such agency provides services of inspection, stock audit, cash flow monitoring and end use verification etc.
After bringing ASM to the banking world, Chartered Accountants have to be more careful and work diligently towards the responsibility of reporting under ASM.
FOCUS AREAS:
Under ASM, Chartered Accountants does not have to necessarily check all the transactions, they mainly checks the transactions which are above the exposure limit. The main focus areas are: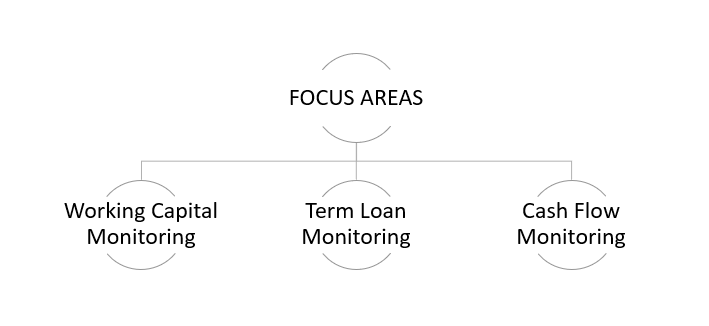 REPORTING REQUIREMENTS:
There are some important areas which shall be covered by the firm under ASM reporting, these are-
Physical verification of stock shall be verified and reported with the help of GR note, e-way bill, etc.
Bank statements need to be verified extensively and sanction of drawing limit shall be checked.
Inventory Holding, Working Capital, Debtors, Ageing, Ratios, Shareholding Pattern etc.; all need to be checked thoroughly.
Documentation of working papers shall be managed properly by the Agency.
Any change in the industry and its impact on the client shall also be included in the report.
Disclosure of any contingencies and legal issues shall be reported.
And, report shall also specify whether the client has cooperated with the Agency and justifications for the same.
Along with these issues, report shall also include any disaster covered or any value addition or adverse remark by the company and any comment on the overall health of the company, whether good or bad as per the respective Chartered Accountant.